When you open the lid of the shoebox and pull back the paper to reach in to get your new pair of Red Wing shoes, have you ever stopped to think about the journey they have already taken to get to you? How do they start from scraps of leather and pieces of materials to now being a sturdy, trustworthy friend that will get you through your day?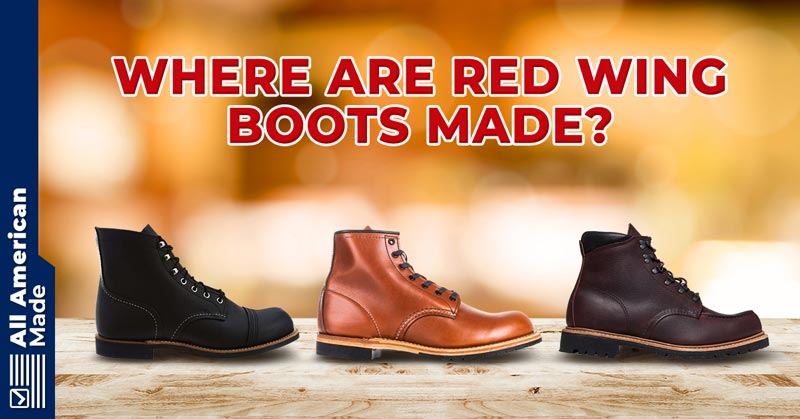 Today we are going to dive into that journey and learn exactly how and where Red Wing footwear is made and cover other important details about the company.
Red Wing boots and shoes are made in the USA. The company is committed to continuing manufacturing in the United States and supporting American workers. Red Wing boots are sold worldwide.
Red Wing – An American Footwear Icon

When you hear the name Red Wing, there are many things that come to mind. First and foremost is that they are an American icon of a brand that has been around since 1905 that all began in their namesake town, Red Wing, Minnesota. Founder Charles Beckman wanted to form a brand of products that would be a quality investment for all customers and make an impact in their lives with each new pair.
He believed in hard work and integrity and felt that the American worker needed a shoe that reflected these values. Red Wing has continued to build on these core values and remains a major force in today's shoe industry.
Their main headquarters at 314 Main Street in Red Wing, Minnesota, still sits in the middle of a town with a population of just around 16,000 people and is just about an hour and a half outside of Minneapolis (which happens to be the most populous state in Minnesota). This gives them a great feel for what the urban and rural customers are needing out of their footwear. A unique perspective to have as there are definitely different shoe styles needed for sidewalks and ranches.
The Minnesota plant can produce up to 25,000 pairs of shoes a week. For those of us who don't like to do math in our heads, that's roughly 5,000 pairs in a day. This number might seem a bit odd for the hands-on approach that is given to these styles but keep in mind that part of their system is that a shoe has to be inspected two separate times before being carefully placed away in a box and sent out to the customer to enjoy by a trained finishing team with a keen eye for details. In this particular case, you are able to get quality and quantity because they have perfected their manufacturing practices after 115 years in business.
One of the first senses that comes to my mind when I picture the Red Wing Manufacturing Facility is how welcoming the smell of all of the different leathers must be. The independent shoe store I worked for was stocked with many leather styles, and there were some mornings that unlocking the door and breathing in could calm even the most frayed nerves. The classic, old-time feel is one that is just good for the soul. Maybe this is one reason so many of their employees start their careers here and stay through retirement.
For their Centennial Anniversary celebration, they built the world's largest boot (a whopping size 638 ½) and placed it in their museum just down the street from their manufacturing plant and tannery. I'm not sure I would want to meet the fellow that could wear this boot, but it would definitely be a fun sight to see. You can check out the world's largest boot built by Red Wing at this link here.
If you are interested in seeing for yourself how your Heritage Style Red Wing has been produced, the museum in Red Wing, Minnesota offers hands-on exhibits where you can truly get a feel for what it takes to get a shoe from pieces of materials to a finished product that goes travels with you wherever you might go. The museum has free admission and is open seven days a week, so no matter what time you happen to swing through, you definitely don't want to miss it.
If you're in the market for either some well-crafted American-made Red Wing work boots or perhaps you'd like to explore your options, you can check out our guide here covering American-made work boots. If you'd also like more details on how Red Wing boots are made, check out this article.
Redwing Infrastructure And Supply Chain

Not only have they continued producing American-made products, but they actually own their own tannery (S.B. Foot Tanning Company) that sits about a mile down the road. This gives them an advantage that not many companies in today's market have at their fingertips. The ability to hand-pick your leather and have complete control over how the leathers are tanned and the entire process is a unique aspect of the Red Wing brand.
The tannery itself has been around since 1872 and was purchased by Red Wing in 1986. They have played a crucial part in our nation's history supplying leather to our military since World War I all the way through our country's most recent battles during Operation Iraqi Freedom.
You can read more about Red Wing's tannery processes at their link here.
Red Wing mostly specializes in leather and thus, they don't have many options for rubber boots. We've got you covered, though, if that's something you need, with our rubber boots made in the USA guide.
Another cool thing that shows that Red Wing is not only an American dream that has withstood time, but they are still a privately-owned company. The Sweasy family from Minnesota still runs the company and continues to encourage employees to not just work for Red Wing as a source for a paycheck but to take pride in the product that they put out on the streets, as well as be productive members of their communities.
As someone who worked in the retail end of the shoe industry, the above feat is not easy. Every month when a new footwear magazine would be delivered to our store, you would constantly read about how one brand was acquiring this another in some huge trade deal, and it seemed like a never-ending cycle of never knowing what brands were actually owned by who. Having this constant source of leadership is a priceless attribute for a company that has been around as long as Red Wing.
When you purchase a Red Wing style from their Heritage Collection, you can rest assured that it has been sewn together by a hard-working American neighbor while they use Puritan-sewing machines that have been part of the company since its earliest years in business. I believe the old saying "if it ain't broke, don't fix it" is definitely true when it comes to these machines.
Where Are Red Wing Manufacturing Facilities in the USA Located?

While the city of Red Wing, Minnesota definitely gets a lot of attention in the business, that is not the only American manufacturing plant that makes Red Wing styles here on American soil.
Tucked away not too far from the Mark Twain National Forest in Potosi, Missouri, is another manufacturing facility for the brand that has been producing steadily since it was purchased back in 1994.
This small town with a population of just over 2,600 is not only a sight to be seen with Ozark mountains and streams, but it is also recognized as a Missouri Work Ready Community, proving that they are definitely qualified to continue to hold up to the quality and style that the Red Wing brand is known for.
Growing up in this flyover state, it is nice to see that even if our towns are small and we might not have a lot of attractions like beaches and perfect weather, we do have hard workers and absolutely love to craft amazing products using our hands. We also are very firmly rooted in tradition and classic styling that shows up in the details of each Red Wing shoe.
Whether your Red Wing Heritage style comes out of Red Wing, Minnesota, or Potosi, Missouri, you can rest assured that it was put together with love and experience from an American worker that takes pride in the work that they do. According to Plant Manager Roy Smith, there are many families that have four generations of workers that have been or are currently with the company today.
Overall the Red Wing Company owns 2 leather tanneries, and 2 footwear factories, has 8 corporate offices and owns 8 warehouses. They employ over 2,000 people and continually work on ways to not only improve their end product but also try to encourage their employees to give back to the communities they work in. You can learn more about Red Wings operations at the link here.
Living and working in the same community definitely gives a different sense of pride in your work. Imagine walking down Main Street with your new pair of Red Wings, and the person that stitched it together passes you by with a wave and a smile.
Are Redwing Boots Made in Asia?

With the above information and being a worldwide company, they have definitely grown to a point that not all styles are made in the United States. Some of their brands such as Irish Setters, Vasque, and WORX are produced in mostly Asian counties such as Vietnam, Cambodia, and the Republic of China.
While this can be a letdown to some consumers, the fact that they began in America and continue to work on ways to keep their roots here shouldn't go unnoticed. There are a few styles in their other brands that are made in the USA from imported parts. You just have to do a little bit of searching through the specs and details of each style to find those, whereas, with the Heritage Collection, that step has been taken out as they are all made here in the United States.
Different styles of shoes are a bit more difficult to keep here in the United States as they require a specific kind of build from the bottom up, and sometimes logistics just get in the way of how efficiently things need to be done.
The good thing about Red Wing owning these brands that might not be manufactured here in the United States is they do still come with over a century of business experience and knowledge that you can rely on for a quality end product.
We've done quite a bit of research on the most popular boot brands, and if you're interested in learning more, you can check out our write-up on Timberland, a boot company that mostly manufactures its products in Asia.
Another popular boot brand we've researched also makes and sources a lot of their materials from Asia is Keen, which you can read more about here.
The Red Wing Role in American Community

Red Wing has survived many different obstacles including World War and the Great Depression, and in those times they always stepped up to help their fellow American as well as the United States military.
They continue this practice today in the midst of trials by donating shoes to charity auctions and homeless families as well as sending shoes to those who have been affected by natural disasters such as hurricanes or wildfires.
The above is a reminder that it is those hometown companies that always step up and serve their communities because they are a part of them. When the going gets tough, these are the ones you can count on to step up and use your money to help others. This often gets lost in the corporate boardrooms that are disconnected from the world of their customers and worried only about their bottom line.
Popular Related Article: List of Great American Shoe Brands
Conclusion:

If you're looking at grabbing a new pair of boots, chances are that you'll also need some socks. We have an excellent resource on American-made socks that you can find here.
Overall there aren't many shoe companies that are a part of the market today that can say that not only did they begin their story in the United States, but that they are still producing great products here and abroad and have been doing so for over 115 years.
As a parent who has a young child that likes to remind me that I was born in the 1900s, the thought of a brand that started with a dream and continues to not only produce shoes but mixes the tried and true techniques that built their brand from the ground and is also not afraid to keep investing in new technologies and styles that keep the brand fresh and ready to meet the needs of all of their customers is not something you see every day.
If you are looking for a great American-made style to add to your collection, the Red Wing Heritage line would be one of the first places I would look.
Whether your specific style comes from the birthplace of the brand in Red Wing, Minnesota, or from the small Ozark town of Potosi, Missouri, you are guaranteed a phenomenal end product that has been tested and approved before ever reaching your feet.
That does it for this article. If you have any further questions about where Redwing boots are made, let us know in the comments below.
Hi, my name is Kevin and I'm from Pittsburgh, Pennsylvania. Choosing products made in America is important to me because it supports local economies, creates jobs, helps the environment, and ensures ethical labor practices. I also find that American made products are usually of higher quality so although they're a little more expensive, you save money in the long run. Before starting this website I was in the USMC infantry and nowadays I work on this website as a hobby.