GE is undoubtedly one of the major innovators in the world of appliances. The brand's reputation speaks for itself, and the company is responsible for major innovations such as the self-cleaning oven and the over-the-range microwave. The American-founded company is extremely popular, but many consumers wonder where GE currently manufactures its appliances.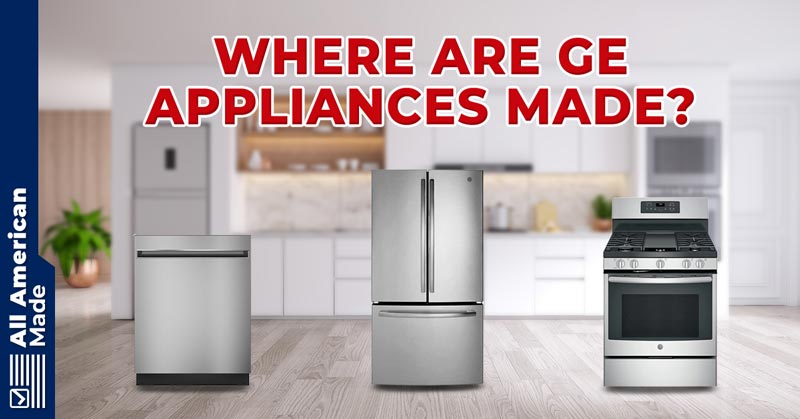 In the rest of this article, we'll share where GE appliances are made and other important information about the company.
Most GE appliances are made in the USA. However, some are made in Mexico and China. GE manufactures over 250 appliances in the USA and employs over 13,600 American workers in five states, including Kentucky, Georgia, Alabama, Tennessee, and South Carolina.
How to Find American-Made GE Appliances (Ovens, Refrigerators, Stoves, & More)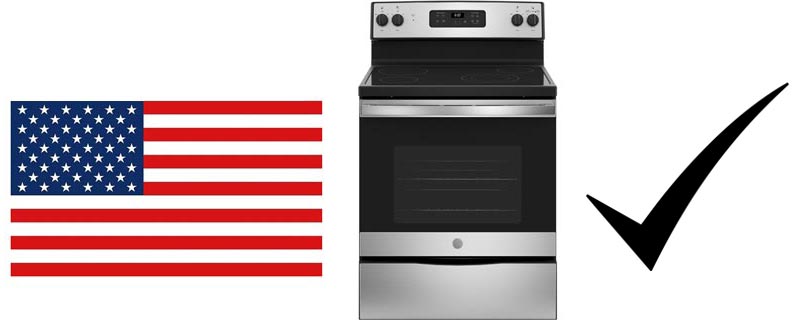 Most GE appliances sold in the United States are made at an American factory, but it's still a good idea to verify where the appliance you're interested in is made before purchasing it. GE makes it very easy to identify which of their products are made in the USA. You can visit this resource on the GE website here and easily find which of their refrigerators, ranges, stoves, ovens, dishwashers, and washing machines are made in the USA.
An important thing to note is that GE appliances labeled "Made in the USA" have 70 to 90 percent US content. This means that 70 to 90 percent of the expenses of making the machine are American-based. This doesn't necessarily mean that 70 to 90 percent of the components are sourced from America.
To me, this is still a pretty high standard, and the fact that they're investing so much into the American economy and American workers makes me want to support them, especially because in the world of appliances so few companies do any manufacturing in the USA. That said, I wish they were more transport about exactly what percent of the components for their products are also made in the USA. With this information, it's up to you whether 70 to 90 percent US content is enough to justify supporting them.
If you want links to each of the major appliances that are made in the USA, check out these links below.
This covers the most common types of appliances, but for more niche appliances, you'll have to refer to the product listing to verify whether or not the product is made in the USA.
Popular Related Article: What Appliances Are Made in the USA?
Who Owns GE?
In 2016, Haier Group took over the operation of the GE Appliances division, and they hold the right to use their brand name until 2056. This brand operates six other subsidiaries for appliances that include Leader, Casarte, GE, Candy, AQUA, and Fisher & Paykel. Haier took the top rank as the top-selling appliance in the world in terms of volume. They hold a global market share of 8.3 percent.
More Information About GE Manufacturing Locations in the USA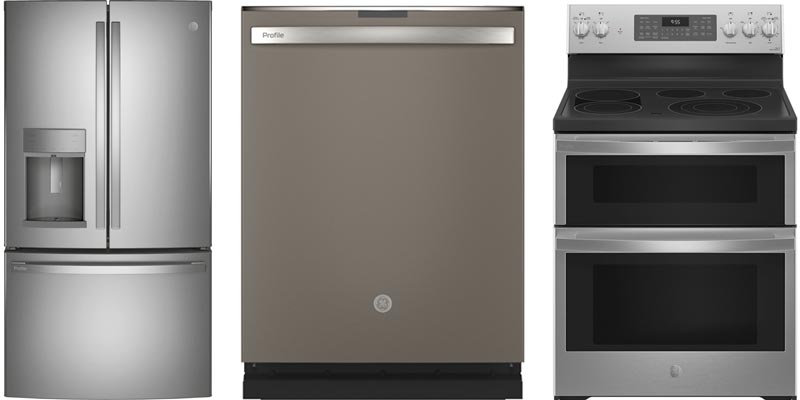 As mentioned, GE appliances made in the USA are manufactured in Kentucky, Georgia, Alabama, Tennessee, and South Carolina. Since 2018 GE has invested an impressive 660 million dollars in American operations and created thousands of new American jobs.
Now let's go into more detail about each of their manufacturing facilities and discuss which products are made there.
GE Manufacturing in Kentucky (What Products Are Made Here)
First, we will speak about GE's largest manufacturing facility in the United States, where 52 percent of GE's American workforce resides. GE has a factory in Louisville, Kentucky, which sits on 750 acres and employs 7,100 workers. They built this factory in 1951, and they refer to it as GE Appliance Park.
Here is a cool video of some GE appliances being made in Louisville.
Louisville operates five GE manufacturing facilities. In total, they have nine across the country, with only one factory in the other states and five in Kentucky. Think about this—the GE site in Louisville is so big that it even has a unique zip code.
Some of the appliances that they make at the factory in Louisville include:
Dishwashers
Multi-door refrigerators
Dryers
Bottom freezers
Components for appliances
GE Appliance Park will continue to expand. The brand announced that it would invest $450 million to introduce new kitchen and bath lines manufactured in the factory. During this investment, they will add 1,000 jobs to the site in GE Appliance Park, while another 600 jobs will go to the plant in Georgia. We like that this company not only keeps American workers but it continues to invest in them.
GE Manufacturing in Georgia (What Products Are Made Here)
The factory is situated in northwest Georgia at Lafayette. They hire over 2,600 workers, and the investment of $119 million had the purpose of keeping up with the demand for wall ovens, electric ranges, and electric and gas cooktops. With two separate rounds of investment, GE plans to increase its workforce in Georgia by up to 50 percent.
Currently, the plant in Georgia holds 19 percent of Lafayette's workforce.
GE Manufacturing in Alabama
The 1,300-employee manufacturing facility in Decatur, Alabama, operates as a refrigeration plant. GE invested $125 million to expand the factory and generate new jobs in the region to keep up with the demand for their high-end freezers.
This 44-year-old factory ranks as the number one employer in Morgan County. The factory in Decatur could be called a smart factory, where it uses 4.0 technology to automate repetitive tasks and increase production. Over 50 robots in the factory perform heavy lifting and automate repetitive tasks.
GE Manufacturing in Tennessee
Operating as a 120,000-square-foot facility, this factory ranks as a minor facility in the United States with 465 employees. In June 2021, they announced plans to invest $5 million in a new production line, which brings their new assembly line up to the fifth line.
We respect GE on this front because of how, instead of migrating the jobs to other countries, they took this production line from Mexico and moved it to Selmer, Tennessee. You don't hear of that too often.
GE did this because it likes to build its products next to the consumer. This shortens the lead time while improving the process of installation.
Four of the most popular refrigerator models from GE come from Selmer, Tennessee. They include:
GE Cafe Series 42"
GE Cafe Series 48"
GE Profile Series 42"
GE Profile Series 48"
Under the Profile series, they will produce a series that includes water and ice dispensing. The Profile series has a higher level of programming and connectivity capabilities in comparison to the standard GE appliances.
Related Article: Where Are KitchenAid Products Made?
GE Manufacturing in South Carolina
The 125,000-square-foot facility in Camden, South Carolina, produces water heaters, and they once produced refrigerators here. GE turned this facility into a state-of-the-art factory for producing water heaters solely. They no longer produce refrigerators here seeing as they invested $60 million to change the production over to water heaters.
With this decision, we see GE's willingness to continue expanding its manufacturing imprint in the United States. The production of their water heaters here began closer to the end of 2020.
Which GE Appliances Are Not Made in America?
Most General Electric appliances sold in the US come from an American factory, but not all of its products were made here. We would like to highlight the products that they made elsewhere. Many people may not know this, but GE's appliance division was sold to the Chinese Haier company in 2016 for $5.4 billion. Under this agreement, they can sell under the GE label until 2056.
We respect this deal, however, because of how Haier has kept the US manufacturing largely in America for the US division. You couldn't ask much more from a foreign company. Not only have they kept the manufacturing in the United States, but the brand has thrived from its manufacturing here.
You do have a few products to avoid if you want American-made, however. These foreign-made products include:
Compact laundry machines
Jes1344sk Countertop Microwave Oven
GE Countertop Microwave Oven
GE Mini Fridge with Freezer
Many of the smaller home appliances tend to come from China. We would strongly advise that you check ahead of time on their microwaves and compact laundry machines. Some of this may have to do with the market as well.
Building small compact laundry machines and mini-fridges in China offers them the convenience of location. Many people in China, the Philippines, and neighboring countries will often buy smaller home appliances because they cost less.
This lets them make it for the local markets, and they can fulfill the lower demand for small home appliances in the United States. Also, the size of these machines makes it more difficult for the brand to turn a profit by building them in the United States.
Are GE Appliances Made in Mexico?
GE operates several manufacturing plants in Mexico, but they do this more to serve the Latin American markets. Some of the appliances do make their way to the United States, but most of them go to the local markets and other Latin American countries. The locations where GE has Mexican manufacturing plants include:
Mexico City
Nuevo Leon
Coahuila
Guanajuato
San Luis Potosi
Queretaro
At one point, Mexico designed and manufactured 95 percent of GE's refrigerators and gas ranges for the market in the United States. Mexico remains a prized manufacturing location for appliances due to its robust supply chain. An estimated 41 percent of the electrical appliances that come from Mexico were made in Nuevo Leon.
Are GE Appliances American Made? Final Verdict
We would answer that question with a resounding, "Yes!" By and large, most of the large home appliances that you buy in the United States from GE will come from an American source. Check the origin ahead of time, but in most cases, they built the product in the United States.
Here is another cool video of some GE appliances being made in America.
If you were to ask, "Is the GE Appliance division American owned," we would have to tell you that the brand now belongs to the Chinese company Haier. We don't necessarily see that as a mark against it, however, considering that they have kept the manufacturing in the USA.
Many people get confused when they see an American-owned business and automatically believe that they manufacture in the United States. Many American companies have chosen to manufacture in countries like China, Mexico, Vietnam, and India. Don't let that fool you. What matters more than who owns the company is where they manufacture its products, and GE manufactures most of its products for the American market in the USA.
We would consider this brand on par with other great American-made companies like Whirlpool. They may not fully make all of their appliances in the US, but they make so much there that you don't have to worry too much.
Popular Related Article: Where Are Cuisinart Products Made?
What About GE's Manufacturing in China?
The parent company, Haier, manufactures in Qingdao, China. We would assume that many of GE's products that come from China would come from this region. Haier was founded in 1984, and they primarily make refrigerators. We would like to point out that Haier also does some of its manufacturing in the United States. The brand opened its first factory in Camden, South Carolina, in 2003.
They built the factory in South Carolina to make Haier a household name in America and save on transportation costs. We believe that Haier uses the same factory in South Carolina as GE uses.
Other Great American Made Appliance Brands
Unlike some of the other product categories, you can still buy from many great American-made brands. One example of those companies would be Whirlpool. We actually wrote about Whirlpool here. Along with holding the Whirlpool label, they have several great American-made subsidiaries under them, like Amana, Maytag, Vitamix, Jenn-Air, and KitchenAid.
Like with GE, you do need to apply some common sense and check ahead of time to see the manufacturer's origin. An estimated 80 percent of all Whirlpool products sold in the US come from the United States.
Another great brand is Electrolux. You do need to exercise more caution with what you buy here, but you can still buy many appliances that they made in the United States, like their refrigerators. While this is a Swedish brand, they produce their Electrolux and Frigidaire (subsidiary of Electrolux) dishwashers in Kinston, North Carolina.
In Anderson, South Carolina, they build top-tier wine coolers and refrigerators at their factory. They had a facility in St. Cloud, Minnesota, for over 73 years, but they shut the plant down in 2019. It produced refrigerators.
Conclusion:
On the whole, we would say that GE remains a great company for those looking for an American-made appliance. We would apply this rule for buying—if the product seems suspiciously cheap, check the origin more closely. We really admire the company's recent initiative to invest in American manufacturing and American workers. If you have any further questions about Where GE Appliances are made, let us know in the comments below. We will get back to you as soon as possible.
Hi, my name is Kevin and I'm from Pittsburgh, Pennsylvania. Choosing products made in America is important to me because it supports local economies, creates jobs, helps the environment, and ensures ethical labor practices. I also find that American made products are usually of higher quality so although they're a little more expensive, you save money in the long run. Before starting this website I was in the USMC infantry and nowadays I work on this website as a hobby.