Embraced by many hikers for almost forty years now, Merrell is a well-known brand with a reputation for making high-quality hiking boots and shoes. Best known for their cushioned support and blurred boundaries between casual and athletic, Merrell has remained a "trail to town" footwear brand.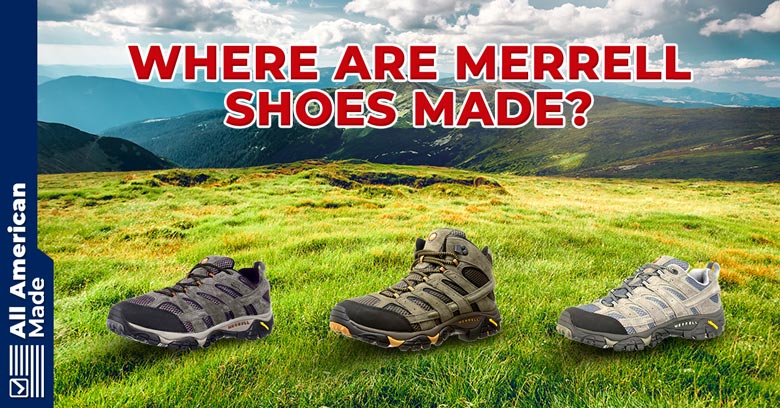 Performing incredibly with so many customers, one may start to wonder where Merrell shoes are made. And since there is so much conflicting information online, we decided to use the live chat feature to get the most up-to-date information on where their shoes are made.
Merrell shoes are made in multiple countries, including China, Indonesia, and Vietnam. Some of their footwear used to be made in the USA but has recently moved overseas.
If you're curious about where a specific model of Merrell shoes or boots is made, they are extremely helpful and responsive. We recommend using the live chat feature on the Merrell website here. That way, you can always be sure you're getting the most accurate information.
Are Any Merrell Shoes or Boots Made in the United States?
No, Merrell has stopped making their footwear in the United States, discontinuing its American-made line of hiking boots in 2020. Their plant in Rockford, Michigan, is now part of their corporate business facilities.
Here is a screenshot I took when using the live chat feature on the Merrell website to verify that none of their shoes or boots are currently made in the USA.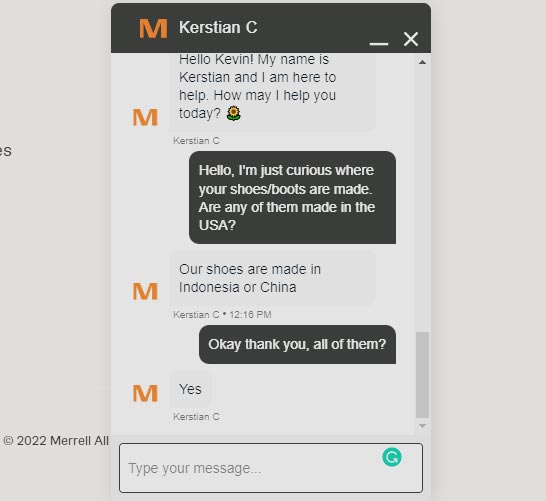 Originally, Merrell shoes were introduced to the market as an all-American entry. While this translated into a bigger price range, their American craftsmanship was worth every dollar in terms of quality.
In 1997, Wolverine Worldwide Inc acquired Merrell and shifted much of the companies manufacturing overseas to cut costs and deliver their shoes at a lower price point. While many customers liked the lower price point, their transformation to your average everyday sneaker wasn't well-received by loyal customers who wanted American-made options.
Merrell is now but another brand under a corporate umbrella. Corporations are always keen on maximizing profit rather than creating competitive opportunities in America. Their shoes are still great, but in our opinion, not what they used to be.
Who Owns Merrell Shoes?

Since 1997 Merrell has been a subsidiary of its holding company and public traded corporation Wolverine Worldwide. Merrell joined a large echo-system of footwear and lifestyle brands, including the aforementioned sister company, Hush Puppies, and other notable names such as Caterpillar and even Harley Davidson.
This means that Merrell's shares and board decisions are controlled by their parent company, and while Merrell may have some control over its own designs and image, it all depends on how much of its shares are held by Wolverine Worldwide.
Being part of a larger corporation has made Merrell a global brand, and it is great to see an American name thrive in the market. Nevertheless, it has a few downsides. First off, their operations become less and less transparent as time goes by, which may translate to confidence in the brand diminishing in the long run. Second, their manufacturing process has become more and more reliant on overseas third-party manufacturers, especially in China and Vietnam.
Merrell's Origins as a Footwear Manufacturer
Founded by Randy Merrell, Clark Matis, and John Schweizer in 1981, Merrell started as a textile and footwear manufacturer that would quickly gain traction for its high-performance hiking boots. It was born as a firm when Matis and Schweizer, then Rossignol Ski Company employees, brought their know-how to Merrell, the only experienced shoemaker.
As a small start-up, Clark Matis brought a valuable marketing and creative perspective while John Schweizer represented the business and management skills side of the coin with a handful of connections. Randy Merrell, on the other hand, was the craftsman of the three and had previously led a dedicated lifestyle to his shoemaking.
At first, Merrell worked on their hiking boots exclusively in the U.S but within a couple of years, the three decided to manufacture and manage their footwear directly from Italy, which at the time held leading production rates in the footwear industry. This would mean a considerable expansion towards the European market, and thus Merrell's hiking boots became renowned and eventually caught the attention of the Finnish sportswear brand Karhu in 1986.
By this point, Randy Merrell had become completely unsatisfied with his craft going completely industrial and his life as part of a global enterprise. When approached by Karhu in 1986, Mr. Merrell agreed to sell his shares of the company only to return to his life as a custom shoemaker.
Merrell's Evolution as a Global Brand
In 1987, Merrell would be acquired by Karhu, and one of the many changes it brought with its acquisition was moving production overseas to China. This translated into expanding the brand's merchandise to over 22 countries around the globe. Within three years and under new management, Merrell went from being a $4 million sales company to closing in 1990 as a $20 million exciting prospect.
However, in a time span of seven years, the company would struggle to grow at its previously exponential rate. As Karhu increased production in China, Merrell suffered from questioning customers who started noticing a certain decline in quality as the company just wasn't what it used to be.
1997 saw Karhu selling Merrell to their current owners, Wolverine Worldwide. At this point, the hiking boots brand had only increased by $3 million in sales, with no expansion beyond 22 countries. Thus, a period of reinvention started yet again under new management, as Wolverine introduced Merrell to the trail of lighter-weight materials and textiles with the Jungle Runner line, but this effort, much to their disdain, was not successful in the slightest.
Nevertheless, this failure would be a stepping stone for reinvention and a tread of successful milestones for Merrell as a brand. As the 2000s rolled in, they would start to combine perfected materials with different approaches hailing from the now sister company such as Hush Puppies. A fine example of this is their slip-on upper made of pigskin suede, which led to the current Merrell signature Jungle Moc design; back in the day, it was an instant commercial success.
The trail of successful milestones can be traced back to 2003, when the Jungle Moc spawned a partnership with Sport Biomechanics, Inc to develop new models for women. Shortly after, in 2007, Merrell started including accessories and clothing apparel while partnering up with Vibram, an Italian footwear company.
In the midst of a global shoe craze, Merrell capitalized as one of the most sought-after brands, and by 2012 they had expanded to sell their products in 151 countries around the globe with a tally of $500 million worth in sales.
In the present day, Merrell operates in 120 stores of their own all around the world, with their most successful models being their American-made and now classic styled hiking boots – the M1 Wilderness. Their evolution has been quite a story to follow, with plenty of ups and downs regarding their quality in popular conception.
Manufacturing Presence in Vietnam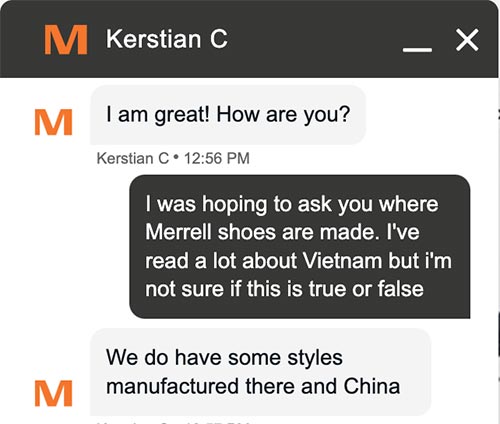 Over the past five years, the company's production in Vietnam has picked up a steady growth pace, nowadays, the country accounts for much of Merrell's footwear manufacturing operations. Furthermore, Merrell's iconic Moab model is among the many catalog pieces hailing from the booming Asian country, and production is only projecting towards an astonishing increase.
Merrell is just one of many brands that have practiced the strategic move to Vietnam out of the new opportunities to capitalize on the more affordable labor the country has to offer.
However, another reason for the move is rooted in the growing tensions and trade issues between the US and China, forcing American companies to focus on expanding and focusing their production on newer alternatives in hopes of finding a fresh start with new business allies. Of course, once again, third-party partners play a massive role in this international landscape.
On another note, the parent company Wolverine has started to fade out progressively from China, and their growing investment in Vietnam has seen rapid escalation and fruitfulness.
Manufacturing Presence in China
China accounts for over 60% of Wolverine Worldwide's (the parent company of Merrell) manufacturing supply; however, it's fair to point out that this number has been reduced in the past five years. We can only estimate how many Merrell shoes are made here, understanding that as an American enterprise, Wolverine Worldwide has sought to reshape its supply chain with new Asian partners.
In recent years, Merrell's presence in China has diminished in size but increased in productivity. In 2019 Wolverine partnered up with Chinese sportswear behemoth Xtep International Holdings with the intention of expanding Merrell's presence in China. This partnership entails that Xtep will market, distribute and develop Merrell's footwear in hopes of incorporating it into local culture, thus making it a seemingly Chinese brand.
Manufacturing Presence in Indonesia
Merrell's presence in Indonesia is fairly recent. While, at the moment, it may seem complementary to their supply chain hailing from China and Vietnam, the company has shown signs of refocusing and leveling its production rate in the country. This move also seeks to mitigate their fading presence and reliance on China as a significant product supplier.
Wolverine Worldwide, of course, plays an important part in this move to Indonesia, as their sourcing has increased significantly since 2018. It's worth noting that on this occasion, Merrell has been one of the first of their broad brand portfolio to test the waters with new partners.
As of 2022, it's hard to tell exactly how many Merrell shoes or boots are made in Indonesia, but we can only speculate that the number will grow higher in the coming years.
Are Merrell Shoes Worth it?

Despite their dominating manufacturing presence in Asia, Merrell offers great quality for their competitive price; for this reason, and some of their stylish designs play a good role, Merrell is still among the top 5 choices for casual and dedicated hikers alike.
Their top-of-the-line models not only feel but perform comfortably and durably, albeit the reason why Merrell still stands out as a classic.
However, their lighter-weight models and more casual designs have affected their popular reception. Merrell's lightweight footwear has seen some backlash in regard to its durability and faulty weatherproof design. Many customers say the quality control of their Asian-produced footwear is not what it once was.
American Made Alternatives to Merrell Boots
We understand footwear is one of the industries where American manufacturing has taken a beating, especially with brands that are supposedly red-blooded American such as Merrell, that choose to depart from the US in exchange for a larger profit. But there's more than a handful of companies, big and small, that are still proud to keep their craft and merchandise in the USA.
We have multiple other articles on the website regarding footwear and boots. You can see our favorite shoes made in the USA here, our favorite American-made work boots here, our favorite cowboy boots made in the USA here, and our favorite American-made running shoes here.
Final Thoughts
That does it for this article, I hope we answered the question of where are Merrell shoes made. Merrell is an extremely well-liked and known footwear company, it is no accident you may start pondering about their manufacturing origin or even if you've come to question their quality.
While their top-dollar lines are undisputedly durable and appealing, the fact that they've moved from American production is a tad disappointing. Sure, their quality may be more than enough for a pair of shoes, but as a renowned company, there's always some sort of moral dilemma we can't help to bring to the table when certain values get sidelined. This may even be the reason behind Randy Merrell quitting the company in the first place.
Let us know if you have any comments or questions below, and we will get back to you as soon as possible!
Hi, my name is Kevin and I'm from Pittsburgh, Pennsylvania. Choosing products made in America is important to me because it supports local economies, creates jobs, helps the environment, and ensures ethical labor practices. I also find that American made products are usually of higher quality so although they're a little more expensive, you save money in the long run. Before starting this website I was in the USMC infantry and nowadays I work on this website as a hobby.