Nowadays, most appliance companies do most of their manufacturing overseas to cut costs. Thankfully, there are still some brands making high-quality American-made refrigerators, and we'll be sharing them with you below, along with many of their most popular models.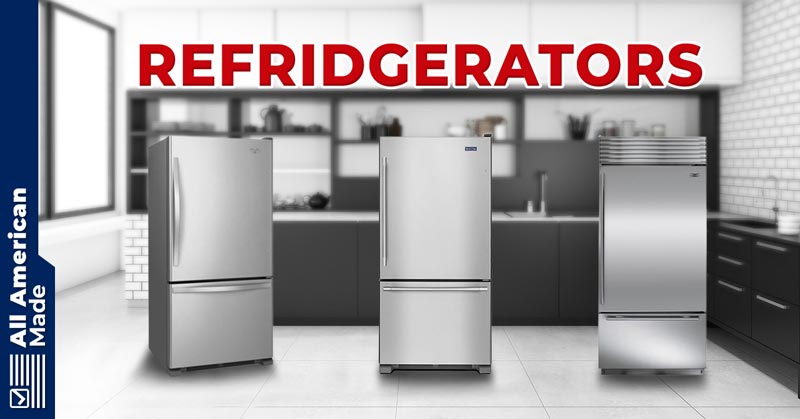 From pocket-friendly brands to high-end options, we've got something in here for everyone. So read on to find the refrigerator of your dreams! You can also see a full list of our favorite American-made appliance brands here.
List of American-made Refrigerators
1. Whirlpool (Very Reliable)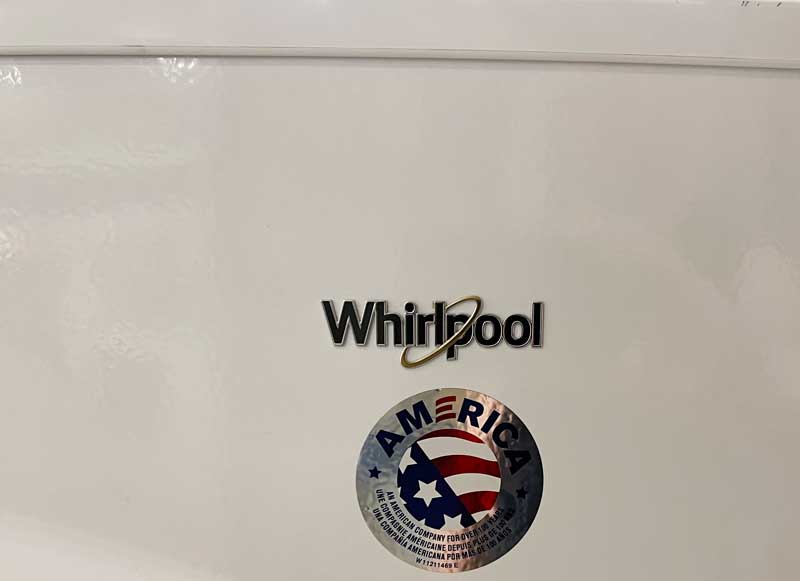 | | |
| --- | --- |
| Year Founded | 1911 |
| Popular Models | WRX986SIHV French Door; WRF757SDHZ 36-inch French Door |
| Notable Features | External Refrigerated Bin with Independent Temperature, Triple Humidity Regulated Crispers |
| Origin | Middle Amana, Iowa |
Company History and Interesting Facts
This brand needs no introduction! As the largest appliance manufacturer in the USA with a slew of brands under its belt, Whirlpool has contributed to the American economy in more ways than one. Thanks to a virtually endless product catalog, any home appliance you want, you'll find it here.
This mammoth of a brand began as the Upton Machine Company in 1911 with motorized washers. Refrigerators didn't happen till 1955 when it acquired Seeger Refrigerators. Starting with Consul models, Whirlpool steadily made strides in establishing itself as the brand of choice for dependable fridges, a crown it holds on to this date.
Why We Love This Brand
Our favorite model is the WRX986SIHV, a 36-inch four-door refrigerator with plenty of storage capacity. Its standout features include an external compartment with its own temperature setting, triple humidity-regulated crispers, and an extra ice bin attached to the door.
Most of what the brand sells is designed, engineered, and assembled across its nine state-of-the-art plants in the USA. Simply put, Whirlpool refrigerators are some of the most reliable ones out there. These stellar American-made kitchen workhorses are an absolute bang for the buck and never fail to impress.
2. GE Appliances (Most Popular)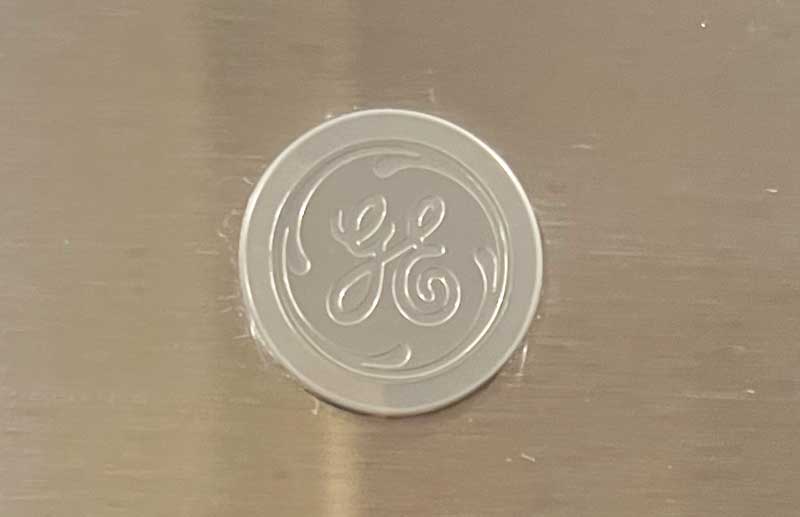 | | |
| --- | --- |
| Year Founded | 1907 |
| Popular Models | GFE28GYNFS French Door; GTS18HYNRFS Top-Freezer; PYE22KYNFS French Door |
| Notable Features | Smudge-Proof Stainless Steel, Two Icemakers, Two-Tiered Freezer Storage |
| Origin | Louisville, Kentucky; Decatur, Alabama; Lafayette, Georgia; Selmer, Tennessee; Camden, South Carolina |
Company History and Interesting Facts
Founded by none other than the legendary Thomas Edison, GE has always been at the forefront of innovation, and its appliance brand is no exception. From launching the world's first self-cleaning oven to UltraFresh Front Load Washer with odor-fighting technology, GE Appliances' invention record is second to none.
Despite being recently acquired by Haier, GEA's contribution to the American economy is as strong as ever, supporting thousands of hardworking Americans and contributing billions of dollars to the economy. Today, GE Appliances is one of the biggest home appliance brands in the country, producing over a whopping 250 appliance types across nine massive manufacturing plants in the USA.
Why We Love This Brand
GEA currently makes about 83 fantastic refrigerator models in a variety of configurations, including french doors, side-by-side, counter-depth, bottom freezer, and top freezer. Even more impressive is that this count will only go up with the relocation of its high-end French door models from China to Louisville, Kentucky, in 2021.
The hot-selling 27.7 Cu. Ft. French Door GFE28GYNFS model is ideal for those who like their fridge roomy and packed with features. Stainless steel smudge-proof exteriors and beautiful LED lighting are inviting. Plus, with its two icemakers, you'll never run out of ice cubes.
This model's two-tiered freezer storage drawers are just the thing you need to avoid rummaging through your frozen treats. It's definitely not cheap but is every bit worth the splurge. Right now available at a heavy discount on this link.
If you're looking for something low profile yet super dependable, we recommend the GTS18HYNRFS top-freezer design – A solid winner with an old-school design that'll never let you down.
3. BlueStar (For Bespoke Refrigerators)

| | |
| --- | --- |
| Year Founded | 1880 |
| Popular Models | BIR30R0 Column; FBFD361 Counter Depth |
| Notable Features | Unmatched Customization, 1000+ Colors, Premium LED Lighting, Advanced Cooling Tech |
| Origin | Reading, Pennsylvania |
Company History and Interesting Facts
This Pennsylvania-based appliance brand is known for combining great aesthetics and high-performing features to create appliances that inspire. Having been around for well over a century, BlueStar's mastered the art of crafting beautiful appliances, all of which still takes place at their headquarters in Reading, Pennsylvania.
Customization is where this brand scores. You can have them modify any of their appliance, including the refrigerator of your choice, in a virtually endless range of colors, finishes, and trims.
Why We Love This Brand
No appliance brand does customization like BlueStar! It's astonishing to see the lengths they go to tailor an appliance to your unique home aesthetics and utility needs. Take their popular 36" counter depth French door, for example. You can choose from over 1000 colors and 10 trims for a fridge that blends in seamlessly with the rest of your kitchen.
This high-performing appliance boasts impressive features like premium LED lighting, roomy storage compartments, and sophisticated cooling tech to fight spoilage and keep food super fresh. Choose from panel-ready columns, built-in French doors or swing doors, counter-depth styles, or design your own refrigerator using BlueStar's super easy appliance builder tool.
4. Sub Zero (For Superior Quality Across the Board)

| | |
| --- | --- |
| Year Founded | 1945 |
| Popular Models | BI-36U/O Classic Over and Under Refrigerator/Freezer, DEC1850FI 18" Designer Column Freezer with Icemaker |
| Notable Features | Dual Cooling System, NASA Air Purification Tech; Showcase LED Lighting |
| Origin | Wisconsin and Arizona, USA |
Company History and Interesting Facts
When Westye Bakke built a refrigerator to store insulin for his diabetic son, little did he know he would soon be seen as a pioneer in the world of luxury refrigeration. From a freestanding fridge fashioned out of metal scraps to crafting some of the most beautiful and functional refrigerators, Bakke's Sub Zero has come a long way.
Based out of Wisconsin, Sub Zero's high-end refrigeration solutions are a blend of superior American quality and groundbreaking technology. In short, the finest money can buy.
Why We Love This Brand
It's raining luxury with Sub Zero appliances! Loved by celebrity chefs and home cooks alike, these refrigerators come in a range of styles to suit every decor sensibility. But a Sub Zero fridge offers so much more than just exquisite looks. These ultra-reliable appliances are rigorously tested to last a minimum of two decades while bringing plenty of comfort and convenience to your everyday life. So if you have the money, don't think twice before spending it on a Sub Zero fridge. The only question that remains is which model to buy.
Sub Zero's catalog has full-size refrigerators that come in three awe-worthy collections: industrial stainless steel Classic, sleek and customizable Designer, and chef-favorite Pro series. You can also choose from wine storage, under-counter, and outdoor refrigerators.
Every Sub Zero fridge is a work-of-art bursting with jaw-dropping specs. The features we're obsessed with are – the dual cooling system, showcase LED lighting, and NASA-inspired air purification technology for blocking odor while keeping the food fresh and tasty.
Popular Article: What Does Made in the USA Actually Mean?
5. LG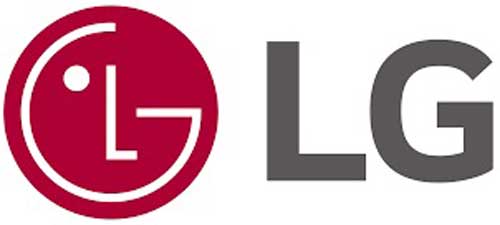 | | |
| --- | --- |
| Year Founded | 1958 |
| Popular Models | LFXS26596S Freestanding French Door |
| Notable Features | InstaView Door-in-Door, Anti-Fingerprint Finish, Wifi Enabled, Smart Controls |
| Origin | Clarksville, Tennessee |
Company History and Interesting Facts
South Korean appliance giant LG produces its products across the globe, but when it comes to American markets, most of what it sells, especially washers, are made right here in the USA.
LG's cutting-edge, sprawling plant in Clarksville, Tennessee, is where all the magic happens. Launched in 2017 to fanfare, this facility is built over a massive 829,000 sq ft area. This plant is equipped for churning out over a million laundry units each year, with plans to expand the scope to other household appliances as well.
Why We Love This Brand
LG's combination of quality, performance, and durability has earned it an unmatched reputation in customer satisfaction, year after year. In 2021 and 2022 consumer studies by Lifestory Research, LG refrigerators were consistently ranked among the top few as America's most trusted kitchen refrigerator brand.
While it currently manufactures most of its refrigerators in Asia, with the expansion of its one million square footage factory in Tennessee, this might soon change. LG, without a doubt, makes some of the best American-made refrigerators.
6. Amana (Great Budget Refrigerators)

| | |
| --- | --- |
| Year Founded | 1934 |
| Popular Models | ASI2175GRB Side-By-Side |
| Notable Features | Humidity-Controlled Crispers, Gallon-Sized Door Shelving |
| Origin | Middle Amana, Iowa |
Company History and Interesting Facts
When Amana began over eight decades, founder George Foerstner was heavily focused on refrigerators and freezers. The story is the same even today. As years passed, Amana's refrigerator collection evolved, winning hearts for its reliability and affordability.
Besides delivering outstanding value, Amana is known for staying ahead of time. Through its journey, the brand has launched many firsts in refrigeration- from the upright DeepFreezer to the first bottom-freezer refrigerator.
Foerstner's Amana was also the first company to patent self-defrosting technology in 1954. As one of the many brands of Whirlpool, Amana offers a complete home appliance solution to take care of all your cooking, laundry, dishwashing, and air conditioning needs.
Why We Love This Brand
In Whirlpool's appliance empire, Amana is the epicenter of innovative refrigeration tech. Not only does this brand's plant in Middle Amana, Iowa, make premium-quality fridges for itself but also parent brand for its Whirlpool and others like KitchenAid, Jenn-air, and Maytag.
Amana's refrigerators are hailed for their easy-to-use features, durability, and wallet-friendly prices. These might not boast the bells and whistles you get in luxury refrigerators but what you get in an Amana fridge is high-performance and straightforward operations.
Some of the features we loved most were trademark humidity-controlled crispers to keep your produce fresh, and flavorful, and gallon-sized door units to easily fit large pints of beverages and milk with room to spare.
7. Dacor Appliances (High-End Refrigerators)

| | |
| --- | --- |
| Year Founded | 1965 |
| Popular Models | DRF36C700SR Counter Depth; DRR36980RAP Column Refrigerator |
| Notable Features | Gentle Push Doors, Glass Shelves, Silver Stainless-Steel Finish, Dual Reveal Door (French Door) |
| Origin | City of Industry, California |
Company History and Interesting Facts
Famed luxury appliance maker Dacor began its journey as a retailer of electric refrigerators in 1948. Things picked up steam when founder Stan Joseph was joined by his brother Anthony. Together the duo jumped into manufacturing and took the brand to new heights.
Today, Dacor has become a byword for exquisite craftsmanship, with each appliance built with perfection at their 325,000 sq ft cutting-edge facility in the City of Industry, California.
Why We Love This Brand
This family-owned brand produces a swoon-worthy selection of appliances, including modular cooktops, built-in ovens, dishwashers, and refrigerators. Take your pick from the sleek and minimalist Contemporary, culinary trendsetting Professional range, or go for a blend of both in the high-functioning and distinctive Transitional collection.
When it comes to configuration, Dacor offers column refrigerators, french doors, wine storage, and side-by-side. Available in a wide range of sizes and capacities, Dacor column models come with interiors that are every bit as gorgeous as the exteriors. The door opens with a light push to reveal stunning LED lights bouncing off silver stainless steel finish and glass shelves.
Fans of the French door are in for a treat with cutting-edge cooling and Dual Reveal Door tech for exceptional storage flexibility. Get it in a custom panel or silver stainless steel finish, depending on your taste.
8. Viking (Top Rated Refrigerators)

| | |
| --- | --- |
| Year Founded | 1987 |
| Popular Models | 3 Series Freestanding French Door; 3 Series 36-inch French Door; 5 Series 48-inch Built-In Side-By-Side (Counter Depth) |
| Notable Features | Spill-Proof Flexible Shelving, Cold Zone with Independent Temperature Control, Advanced Air Purification System |
| Origin | Greenwood, Mississippi |
Company History and Interesting Facts
Since the start, Viking has made it its mission to offer unbeatable quality and efficiency while winning numerous awards for its designer studio vibe. This brand is unabashedly proud of its American heritage.
When so many other appliance brands have offshored manufacturing, Viking has always believed in staying local. That is why, for the last forty years, all Viking appliances have been made from start to finish at a manufacturing facility in Greenwood, Mississippi.
Why We Love This Brand
Viking's refrigerators are built to last a lifetime and come fully equipped with all first-in-class features to keep your food fresh for longer. These premium American-made fridges are frequently spotted in the kitchens of culinary rockstars, and for a good reason.
A 3-series Viking freestanding French door fridge comes with a premium air purification system for odor-free storage, electronic controls, four adjustable spill-proof shelves, and proprietary ColdZone with independent temperature settings. And that's just one of their many brilliant refrigerator models spread across seven collections and in all styles, from freestanding to under-counter.
9. GE Café (Designer-Worthy Refrigerators)
| | |
| --- | --- |
| Year Founded | 2018 |
| Popular Models | CWE19SP4NW2 33-inch Counter Depth French Door; CVE28DP2NS1 36-inch French Door |
| Notable Features | Colored LED Lighting, Internal Water Dispenser, Cutting-Edge Temperature Control, Exceptional Customization |
| Origin | Kentucky and Georgia, USA |
Company History and Interesting Facts
In 2018, GE Appliances launched a trendy, upscale brand that allows customers to personalize devices to blend with their existing cabinetry. Following the footsteps of its parent brand, nearly all major appliances that the GE Café offers are proudly made at three plants in Kentucky and Georgia, USA.
Cafe appliances are aesthetic wonders with sleek exteriors, luxe finishes, and beautiful craftsmanship. Add to that unmatched quality and user-friendliness, and Café's steep prices suddenly seem well worth the investment.
Why We Love This Brand
Café's ever-popular fridge is an exquisitely built 33-inch French door style with counter depth dimensions. In terms of design, it won't be wrong to call it an ergonomic work of art that offers unhindered access to every stored item. A part of the Matte series, the CWE19SP4NW2 offers colored LED interior lighting and an internal water dispenser with excellent temperature control. All this while saving you big utility bills with its high energy rating.
For customization, mix and match a classic matte white, matte black, or stainless steel base with hardware in brushed copper, black, bronze, or stainless steel. The CWE19SP4NW2 is one of the more accessibly priced models, but if budget is not a problem, do explore their top-of-the-line 36-inch French door CVE28DP2NS1. And be prepared to be wooed!
Popular Related Article: Where Are Bosch Appliances Made?
10. Beverage-Air

| | |
| --- | --- |
| Year Founded | 1944 |
| Popular Models | HBR35HC-1 Horizon Series; HBR19HC-1 |
| Notable Features | Stainless-Steel Body, Full-Electronic Control, Energy Efficient R290 Refrigerant |
| Origin | Brookville, Pennsylvania |
Company History and Interesting Facts
If you're looking for a reliable refrigeration system for your commercial setup, look no further than Beverage-Air! This Winston-Salem-based company was founded in 1944 with the aim of providing uncompromising performance and innovative technology for the food service industry.
Beverage-Air's diverse selection of glass merchandisers, reach-in refrigerators, and under-counter coolers are built with incredible attention to detail in Brookville, Pennsylvania, USA.
Why We Love This Brand
Over seven decades ago, Beverage-Air invented and patented the world's first horizontal bottle cooler and has since expanded to offer a vast range of cooling solutions, perhaps too long even to list here.
One door, two doors, top-mounted, bottom-mounted, or reach-in, regardless of the configuration or design you pick, a Beverage-Air refrigerator will consistently deliver the highest-quality food preservation with minimal fuss.
Besides quality, this company is committed to making its processes greener and more sustainable. All products are designed to be energy efficient and produced with a zero-waste process with plenty of recycling.
11. Scotsman Ice Machine (For Restaurant-Quality Ice Cubes)

| | |
| --- | --- |
| Year Founded | 1950 |
| Popular Models | DCE33 Legacy Cuber; SCN60 Brilliance Nugget Ice Machine |
| Notable Features | Auto Shut Off and Restart, Ideal Bin Capacity, Aluminum Door with Stainless Steel Finish; Panel Ready |
| Origin | Fairfax, South Carolina |
Company History and Interesting Facts
This South Carolina-based brand's shot to fame is its exceptional line of ice cube makers that it calls, Cubers. Scotsman has been around since the 1950s, delighting people with every type and style of ice cube possible!
Their first invention, the original nugget ice machine, took the world by storm. There are now over 100 million of these in use around the globe. So what makes Scotsman's home ice makers such a rage? Read on to find out!
Why We Love This Brand
Scotsman is devoted to producing crystal-clear ice cubes for every occasion, whether a picnic or a black-tie fundraiser. The Legacy Cuber DCE33 creates beautiful, odorless ice cubes to elevate your drinks. This 15-inch wide appliance can churn out up to 30 lbs of ice day after day with remarkable consistency. You can have it installed in its original aluminum with stainless steel finish topped off with a wooden panel that goes with the surrounding decor.
If you're looking for something more restaurant quality, how about giving the Brilliance Nugget Ice Machine SCN60 a shot? The small, bite-sized nuggets are perfect for any drink or glass. These bits of ice soak up the flavor of your drink, becoming deliciously chewable in the process.
All Scotsman ice machines are designed, engineered, and assembled with love, pride, and finesse at their world-class Fairfax, South Carolina plant.
12. Forté

| | |
| --- | --- |
| Popular Models | F12BFRES450RGN 24-inch no-frost counter-depth; F12BFRES450SS |
| Notable Features | Exquisite Design, No-Frost, Open Door Alarm, Stainless Steel Exterior, Energy Star Certification |
| Origin | Brooklyn, New York |
Company History and Interesting Facts
One of the lesser-known brands on this list, Forté is an Italian company that manufactures many of its products, including refrigerators, in the USA. The brand was started by a scrap metal businessman, Enzo Scalpini, who learned appliance building from tinkering around with discarded items. Thrilled with the results, he soon bought a factory outside the stunning city of Venice and started manufacturing appliances emphasizing functionality and beauty.
Why We Love This Brand
After gaining a hold over European markets, Forté is ready to woo Americans with its wide range of kitchen equipment. Most Forté refrigerators boast a sleek stainless-steel exterior, but you also get some panel-ready options. While their collection has every configuration imaginable, we recommend checking out the 450 American-made range.
Our top pick is the F12BFRES450RGN 24-inch no-frost counter-depth model that packs a retro appeal with a convenient array of modern features. If a retro-looking fridge isn't your jam, the F12BFRES450SS from the same series will elevate the aesthetics of any contemporary-style kitchen.
Popular Article: What Cookware is Made in the USA?
13. True Residential (Performance Packed Refrigerators)

| | |
| --- | --- |
| Year Founded | 1945 |
| Popular Models | The True 48 Side-By-Side; 36-inch Glass Door Refrigerator with Bottom Freezer |
| Notable Features | High Precision Cooling, Elegant Designs, ADA-Compliant, Customizable Finishes, and Hardware |
| Origin | O'Fallon, Missouri |
Company History and Interesting Facts
For the last 70 years, True Manufacturing has earned quite a name for its state-of-the-art commercial refrigerators and freezers. But there's no reason why that delightful combination of functionality, elegance, and quality can't be enjoyed by homeowners. Lucky for us, their recently launched True Residential collection now gives us access to the brand's legendary professional-grade cooling and heart-warming aesthetics.
Why We Love This Brand
There are thousands of refrigerators in the market that can do the basic job of keeping your food fresh and cool. With True Residential's refrigerators, you get an appliance designed to inspire and amaze you. Performance-driven design with industry-leading technologies that maximize convenience while minimizing energy use has been True's design mantra from the very beginning.
These American-made food preservation wonders are available in all popular configurations: side-by-side, bottom freezer, under-counter, column, ice machines, as well as accessible ADA-compliant designs. As in the case of most high-end brands, True's refrigerators can be yours in a host of awe-worthy finishes and hardware, with a stainless glass or stainless steel door.
You can pick any model from their luxe catalog or get in touch with their design team to get one made only for you. If you're looking for refrigerators made in the USA then True Residential is definitely a company worth checking out.
14. Marvel Refrigeration (Great Range of Under-Counter Refrigerators)

| | |
| --- | --- |
| Year Founded | 1892 |
| Popular Models | MPD424 Built-In Dual Zone Wine Refrigerator; MPRE424 Under-Counter Refrigerator |
| Notable Features | Eco-Friendly Appliances, Easy-to-Clean, Theatre LED Lighting, Frost-Free Precision Cooling |
| Origin | Greenville, Michigan |
Company History and Interesting Facts
You cannot pick out your next fridge without checking out this 130-yr old appliance brand's impressive collection! Founded in 1892, Marvel's under-counter fridges and beverage centers have graced countless homes and entertainment zones in North America for their versatile design and innovative specs.
These compact refrigerators have been designed, manufactured, and rigorously tested to last you ages. As a proud American brand, Marvel makes all its products at a facility in Greenville, Michigan, in the most eco-friendly way possible.
Why We Love This Brand
Not just one. There are so many reasons we love this brand! Marvel's under-counter models are designed to give you frost-free, precision cooling to keep your food and produce fresh and crisp. The exteriors are made from long-lasting and low-maintenance stainless steel with gorgeous accents. Inside, the theatre lighting illuminates adjustable shelves that are perfect for optimizing space.
Choose from a brilliant variety of sizes, configurations, and shelving options depending on your taste and storage needs. All models use environmentally-friendly R600a refrigerant and come with an Energy Star rating, making them good for you and the planet.
15. U-Line

| | |
| --- | --- |
| Year Founded | 1962 |
| Popular Models | HBD524 Beverage Center; 2224ZWC Wine Refrigerator |
| Notable Features | Digital Touchpad Control, Individual Temperature Control Zones, Energy Saving Compressor |
| Origin | Milwaukee, Wisconsin |
Company History and Interesting Facts
Looking for something that can keep your drinks cool and look good doing it? Then U-Line's beverage centers and wine refrigerators are perfect for you! U-Line was born out of Henry Uihlein Sr.'s obsession with refrigerators. His painstaking efforts resulted in the invention of the first under-counter residential, which he started selling from door to door.
Now, six decades later, the brand catalog offers every type of refrigeration solution, from ice makers to under-counter refrigerators to wine preservation systems. Each product is built with stringent industry standards at U-Line's headquarters in Milwaukee, Wisconsin, USA.
Why We Love This Brand
U-Line makes a variety of refrigeration solutions but has carved a niche in under-counter refrigerators with their iconic Beverage Centers. The HBD524 model is built to store any type of drink with individual temperature control and a slew of cutting-edge tech, including energy optimizing compressor and storage maximizing design, housed in an ultra-durable stainless-steel cabinet.
The 24" 2224ZWC, on the other hand, is designed to meet the needs of wine connoisseurs. Available in three gorgeous finishes, this wine refrigerator has a classic swing door style with two separate temperature zones, easy digital touchpad controls, and white LED lights, bringing striking black interiors to life.
Know more about this proud American brand and what they stand for in the video below.
16. Perlick (Cutting-Edge Beverage Refrigeration)

| | |
| --- | --- |
| Year Founded | 1917 |
| Popular Models | C-Series Under-Counter |
| Notable Features | Energy Efficient, Non-Ozone Depleting, Dynamic Professional-Grade Cooling |
| Origin | Milwaukee, Wisconsin |
Company History and Interesting Facts
Perlick's story began over 100 years ago with a German immigrant Rober K. Perlick starting an eponymous brassworks company specializing in automobile brass parts and battery terminals in Milwaukee. Over the next two decades, Perlick tapped into Milwaukee's beer boom with their hassle-free dispensing solution. By the 1940s, the brand got into the refrigeration game while constantly evolving its beverage dispensers.
Today, Perlick is a coveted name for its ultra-premium beverage equipment as well as luxury refrigeration that's widely used by restaurants, pubs, as well as residential homes.
Why We Love This Brand
In terms of prices as well as quality, Perlick resembles brands like Dacor and Sub-Zero. It's a fine blend of high-quality refrigeration backed with tons of style. But unlike Dacor and Sub-Zero, Perlick's niche is under-counter and wine refrigerators instead of full-sized ones.
Available for both indoor and outdoor use, Perlick refrigerators are highly energy-efficient, non-ozone depleting, and long-lasting. To find models for your home, you can check out the "residential products" on the brand website.
The C-series under-counter home fridge has been modeled after the brand's award-winning commercial variant, not only in looks but also in the super-fast speed of cooling. At 24" and 5.2 Cu ft., this model has plenty of room to stock up on cans, drinks, and cold snacks. Choose it in classic stainless steel or have it customized with a door that matches the rest of your cabinetry.
Popular Article: What Blenders Are Made in the USA?
Wrapping Up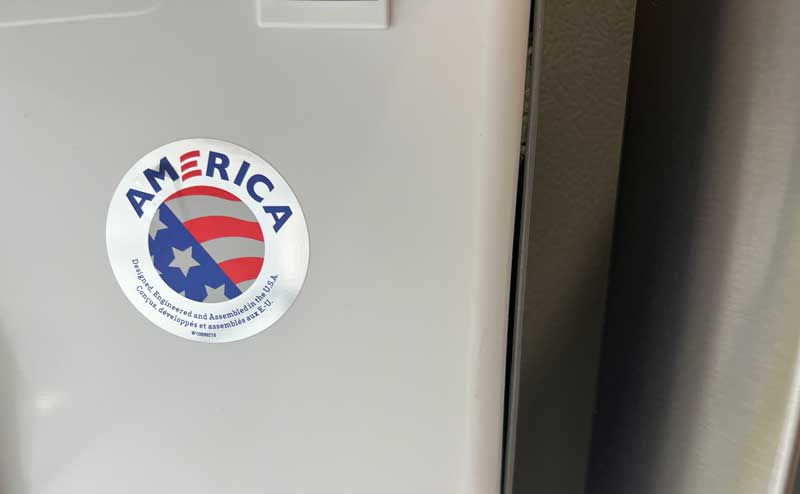 There are three elements that define a kitchen- the stove, the sink area, and the refrigerator. A good refrigerator can make a world of difference in your everyday life by keeping your food fresh, safe, and healthy.
As an appliance that works round the clock, your fridge needs to be durable and built with the finest materials and technology. So, when you have to decide between buying a cheap imported model vs. a slightly pricier one that boasts superior American craftsmanship, we recommend going for the latter.
Let us know of there are any new models or products in general that you feel we should add to our list. We always love hearing your feedback.
Hi, my name is Kevin and I'm from Pittsburgh, Pennsylvania. Choosing products made in America is important to me because it supports local economies, creates jobs, helps the environment, and ensures ethical labor practices. I also find that American made products are usually of higher quality so although they're a little more expensive, you save money in the long run. Before starting this website I was in the USMC infantry and nowadays I work on this website as a hobby.